If you Google the "ridge hike in Switzerland", you're going to find, in the top 10, maybe even top 3 Brienzergrat also known as Hardergrat ridge. Internet content starts with amazing drone videos, through people being scared for their life and bailing off, to people claiming that it's overrated. So how was it from my perspective?
Planning
For the first go it seemed like a good idea to do the "easy" variant going between the mountain tops: Harder Kulm and Brienzer Rothorn Since this is not a circular route, we had to first decide which way to go. We went with Rothorn -> Harder direction because:
It's "downhill" (1391m vs 2333m).
Last train from Rothorn goes at 17:40 whereas the funicular from Harder it's going till 21:40.
Even if we missed the last funicular from Harder, we would finish in Interlaken and could easily walk home.
The crux is closer to Rothorn, so we encountered it still fresh.
It's East-West direction, so no sunrise glares.
There is a special 08:36 a.m. ticket at Brienz Rothorn Bahn that costs only CHF 24.50.
Execution
Early start. Coffee. Pack running vest. Properly tie shoelaces. Go to Interlaken Ost. Board the train. Sleep. But not too much. Change in Brienz. Admire the cutest train logo ever. Sleep for an hour, while counting the six tunnels of BRB. We're at the start of the trail!
The trail starts with an amazing set of views that is completely worth it on their own and got even better as we hiked on.
The first few kilometres were on a gentle ridge that even had steps where necessary. But despite the plan to run the trail, we were mostly only walking. Partially because of the downhill, technical terrain. Partially because of the steep sides that guaranteed a long tumble in case of a wrong step. Reasonable, safe running can happen in the last 1/4 of the ridge.
Exactly one-hour after the start we met the crux of the route: The Tannhorn. Which is described as:
It's the tallest peak along the route and to get up there requires a rocky climb up a short T5-rated outcrop of rock. A portion of that climb does have a wire rope which is less helpful for holding onto, more for indicating the safe place to climb. It isn't that difficult to climb, but it is very steep. The rest of the climb to the peak of Tannhorn along its long backbone is the most exposed and narrow section of the trail.
Speaking from personal experience from some UK scrambles, I doubt that in Scottish guidebooks this would be marked as "exposed" and even less so "with few bold moves". It is not for the faint-hearted, but good shoes, slow moves and three points of contact rule should anyone reasonably fit get through.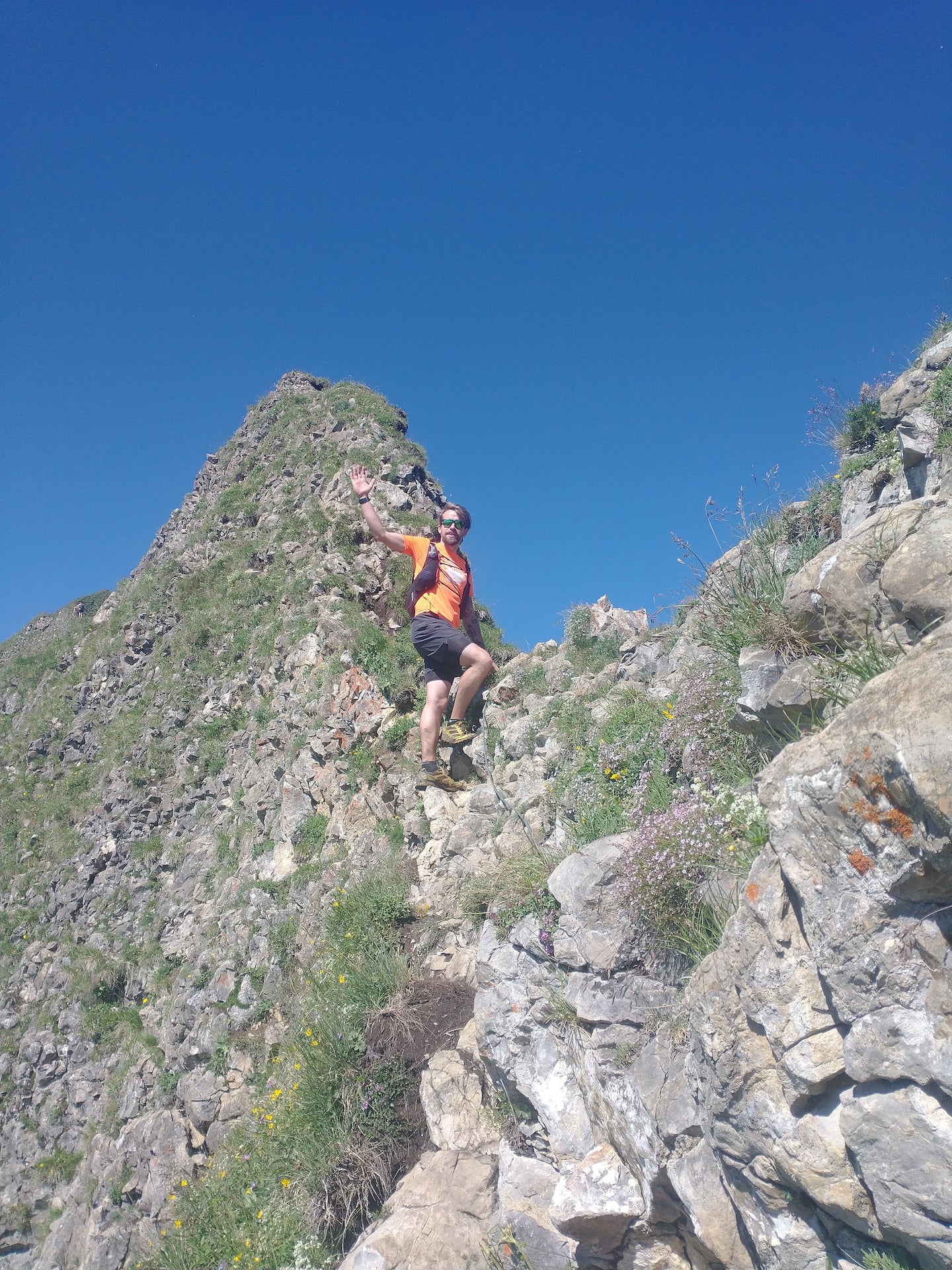 Speaking about the relativity of the perception of the dangers: We've met quite a few people that just run the ridge as they'd be on tarmac. And also a few that were genuinely scared for their lives when the ridge got narrow. So it depends 🤷‍♂️.
Moving along the grassy tops we got an amazing set of views, which can be only described as: What you see on Instagram looks way worse than reality.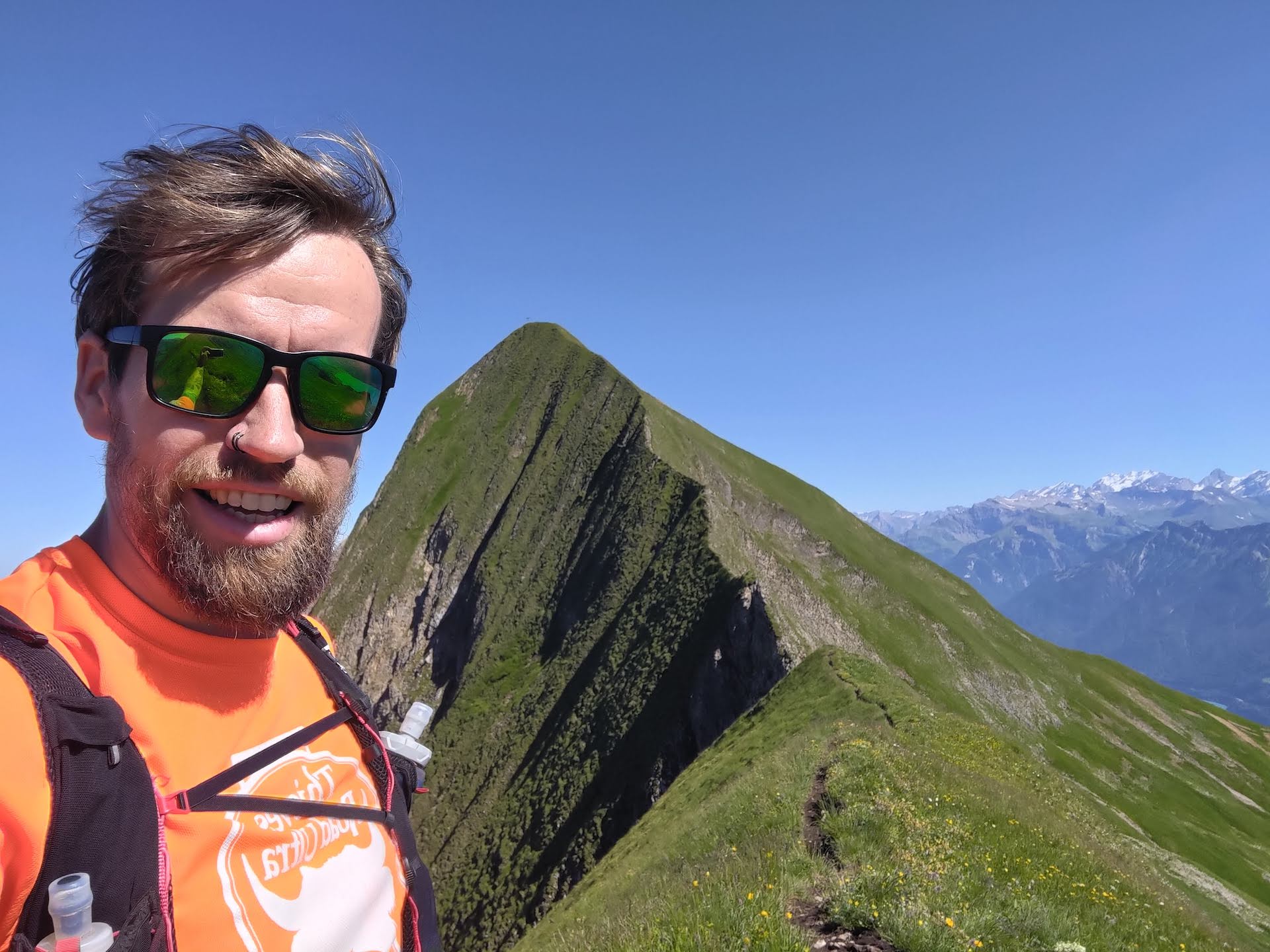 When we passed 3/4 of the route, the terrain became runnable and we could enjoy some "wheee" and "uiii". As a bonus the path occasionally snaked into the forest, so we could get a tiny break from the omnipresent sun.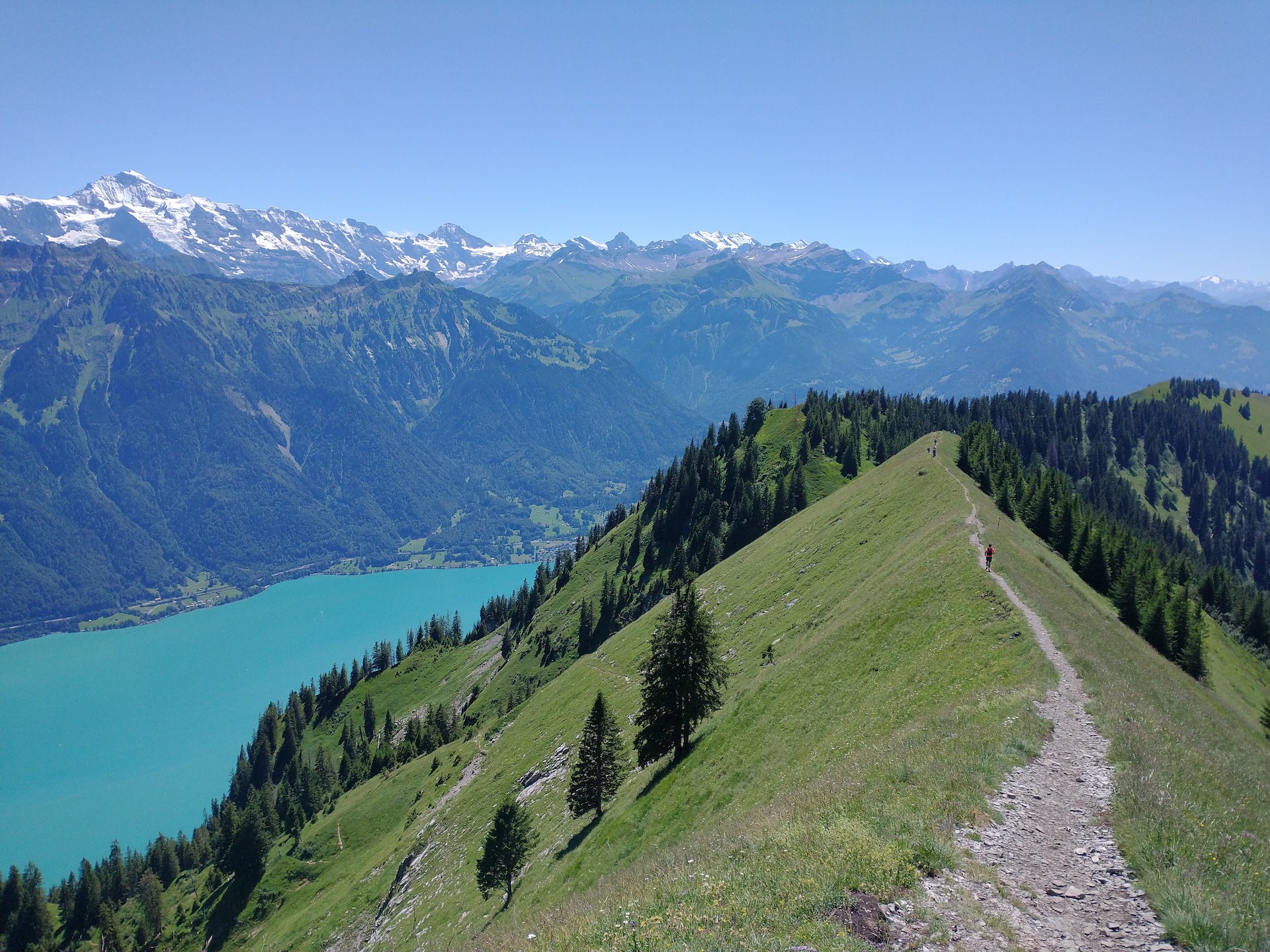 Beer at the Harder Kulm kiosk and late evening funicular down back to Interlaken.
Wrap-up
I enjoyed this wee adventure very much. The views, the trail, the tiny scrambles, all of it. Even talked to some locals that are hiking it every year and they assured us that "this was the crux and it's going only easier from now on". If you're in the area and have a day to kill, then you should try it.
Conclusion
Make sure you can make the whole 20km with ~ 1.1km ascent and ~2km descent before stepping a foot on this trail. While escape routes are possible, I'd highly recommend not taking them as some seem worse than the ridge itself.
Start early. It took us 8 hours to finish and we were not slow.
The clickbaity videos on YouTube from people bailing off the trail are often shot on a fish-eye lens and are over-dramatized for more clicks. There is certainly a danger, but a responsible hiker should not have a problem.
I'd advise against doing the ridge when wet. The rocks on the path could get sketchy and you really don't want to fall.
Most important of them all and I can't stress this enough: Take enough water. There is no option for a refill and there is next to zero shade on the way. We had 2.5l per person and finished with a tiny reserve left.
If you want to run-run this I think it would be better to do it the other way around. Because you're going to have fewer beaking-for-your-life moments.
Stats
| Name | Value |
| --- | --- |
| Distance | 20.15km |
| Ascent | 1080m |
| Descent | 2013m |
| Duration | 8h 03min |
| Moving time | 4h 00min |